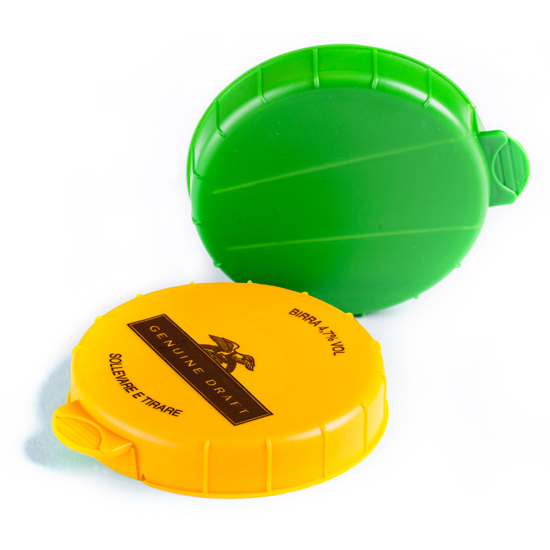 A new and effective method
KegCap 690 is a new type of keg seal that – due to its innovative characteristics - makes it easier for breweries to apply seals and for customers to break them.
Developed to be compatible with most sealing machines on the market, the only extra plant required is the heat-shrinking equipment. The heat-shrunk process is carried out onto kegs quickly and easily - and gives 100% sealing so that dust and other impurities cannot penetrate.
Easy and safe tear-off system
KegCap 690 can be removed easily by hand, the seal being broken by a tear-off tab. After opening KegCap 690 remains in one piece (and does not leave the usual plastic collar that might otherwise damage filling line cocks), while the seal must be broken completely to allow the cap to be removed.
Individual design
KegCap 690 is available in an unlimited range of colours and it is possible to have it printed with the company logo: in this way the company is able to make its own trademark stand out from the trademarks of competitors.
Years of development work
The solving of the problems presented by the sealing methods used up to now has involved many years of work, during which keg seals were tested in existing wine and beer production lines.
Technical features
KegCap 690 is a tamper evident shrink cap that, by means of a special heat-shrunk process, seals keg filling inlets/outlets hermetically.
Printing:
Heat embossed (in all colours - including the most particular: gold, silver and bronze).
Fitting equipment:
Normal standard equipment
Shrink cycle:
-1200 caps per hour (shrinking time ~3 sec. depending on equipment)
Shrink temperature:
Approx. 150-200°C.
Keg outlet types:
U, D, S (d.=63 mm)
M, G, A (d.=70-75 mm)